Wholewheat Tagliatelle with Avocado Pesto
The Silver Spoon Kitchen
Serves:

4

Preparation:

15

Cooking:

5

Ready:

20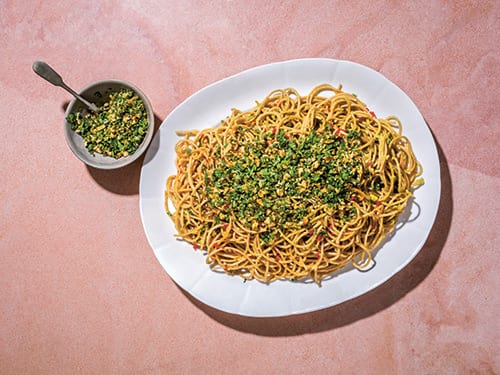 A quick and easy pasta dish with a zing.
Ingredients
300 g (10½ oz) farro tagliatelle or other long pasta
handful of fresh coriander (cilantro)
50 g (½ cup) walnuts
grated zest of ½ lime
1 avocado, pitted, peeled, and chopped
1 shallot, thinly sliced
juice of 1 lime
3 tablespoons extra virgin olive oil
1 fresh hot chilli, seeded, membrane removed, and very finely diced
salt
Method
Bring a large pot of water to a boil. Salt the water, add the pasta, and cook according to the package instructions until al dente. Reserve but do not drain the pasta.
On a cutting board, combine the fresh coriander (cilantro), walnuts, and lime zest and coarsely chop. Transfer to a small bowl, stir to combine well, and set aside.
In a blender cup or tall jar, combine the avocado, shallot, lime juice, and a pinch of salt and purée with a hand blender.
Add a small ladleful of the pasta cooking water and the olive oil to the avocado purée and blend briefly to combine, then stir in the chilli.
Drain the pasta and transfer it to a serving bowl. Add the avocado sauce and toss to coat, then sprinkle with the cilantro-walnut mixture and serve.
The Vegetarian Silver Spoon by The Silver Spoon Kitchen is published by Phaidon, £35 (phaidon.com)
"Tagliatelle integrali con pesto di avocado"
"Avocados are very rich in vitamins A, D, and E. They have antioxidant properties and high levels of linoleic acid and omega-3 fatty acids. Buy avocados when they're soft to the touch, which means they're perfectly ripe."
Impact calculator
See the difference you can make
Calculate how you can have a positive impact by eating less meat and dairy ...