Cardamom Fudge
Sasha Gill
Serves:

9 big or 16 small squares

Preparation:

15

Cooking:

30

Ready:

45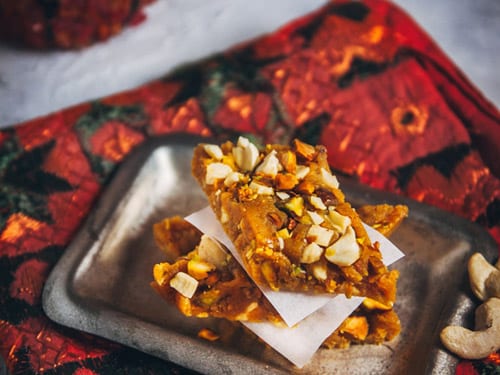 This mouth watering Indian style fudge is a twist on the traditional and bursting with nutty flavour.
Ingredients
1 x 400 ml tin coconut milk
½ cup (110 g) white sugar
1 cup (120 g) chickpea flour
1 tablespoon coconut oil
½ cup (65 g) chopped cashews or pistachios, plus extra for topping
¼ teaspoon ground cardamom
1-2 tablespoons icing sugar –optional
Method
Put the coconut milk and sugar into a heavy-based saucepan and place over medium-low heat. Stir well to dissolve the sugar, then simmer for 20 minutes, without stirring, until thick – you should have about 1 cup (250 ml).
Meanwhile, sift the chickpea flour straight into a large non-stick frying pan over low heat and add the coconut oil.
Toast the chickpea flour until it starts to tan and begins to smell less beany and more caramelised. When it's done, tip the chickpea flour out of the pan into a shallow dish, to prevent it from burning in the hot pan.
Sift the chickpea flour into a large bowl, then add the chopped nuts, cardamom and icing sugar to taste, if you have a sweet tooth. When the coconut milk is ready, pass it through the sieve into the bowl and mix everything well.
Grease and line a 20 cm square brownie tin with baking paper, then pour in the burfi mixture. Flatten it by laying a second sheet of baking paper over the top and pressing down with a spatula. Remove the top layer of paper and, using a greased knife or pizza wheel, cut into squares. Top the burfi with more chopped nuts, then let it chill and set in the fridge for 1–2 hours before eating.
Note: You can make a vanilla version of this fudge by using ½ teaspoon vanilla extract instead of the ground cardamom.
Recipe taken from Jackfruit and Blue Ginger by Sasha Gill (Murdoch Books, £18.99). Photography by Sasha Gill (except author photo, back cover by Steve Brown).
"Burfi is a type of Indian fudge, often eaten during Diwali. Just like its western counterpart, burfi can come in many different forms. This one, called besan burfi, is a melange of nuts, sugar and chickpea flour. Chickpea flour may seem like a peculiar addition to fudge, but it is quite a common component in Indian desserts, and comes with a nice hit of protein as a bonus!"
Website: thesashadiaries.com
Twitter: @sashadiaries_
Instagram: @thesashadiaries
Youtube: Sasha Gill
Impact calculator
See the difference you can make
Calculate how you can have a positive impact by eating less meat and dairy ...