Black Bean and Beet Burgers
Leah Vanderveldt
Serves:

Makes 6–8 patties

Preparation:

20

Cooking:

25

Ready:

45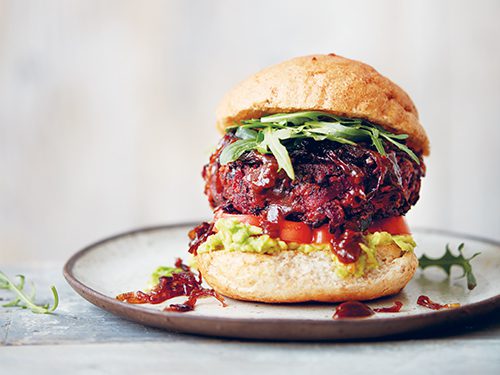 This smoky and 'meaty' veggie burger works well with lots of different combinations!
Ingredients
olive oil, for frying
1 small red onion, finely diced
2 garlic cloves, finely chopped
2 tablespoons flax seeds
50 g rolled oats
2 x 400 g cans black beans, drained and rinsed
2 medium beetroot, grated
2 tablespoons tomato purée
1½ teaspoons smoked paprika
1 teaspoon dried oregano
salt and freshly ground black pepper, to taste
Optional serving suggestions
toasted English muffins or buns
barbecue sauce
smashed avocado
caramelised onions
sliced tomato
Cos lettuce or rocket
Method
Heat a thin layer of olive oil in a medium frying pan over a medium heat. Add the onion and cook, stirring, for about 5 minutes until softened. Add the garlic and cook for 1 minute more. Remove from the heat and set aside.
In a large bowl, combine the flax seeds with 6 tablespoons water and let stand for 10 minutes.
Meanwhile, in a food processor, process the oats until they are finely chopped and bordering on a flour-like texture. Add the black beans to the food processor and pulse until they're finely chopped and combined with the oats, but not puréed.
Put the processed oats and black beans, grated beetroot, cooked onions and garlic, tomato purée, smoked paprika and oregano into the large bowl with the flax seeds. Season with salt and pepper and mix with a rubber spatula or with your hands until everything is well combined. Form the mixture into 6–8 patties using damp hands, making them about 2.5 cm/1 inch thick and about 7.5 cm/3–4 inches wide.
In a large frying pan, heat enough oil to cover the base over a medium-high heat. Add two patties and cook for 3–4 minutes on one side, until browned and firm. Flip and cook for another 3–4 minutes on the other side. Reduce the heat to medium if the patties are getting too charred. Remove and repeat with the remaining burgers.
Alternatively, you can lightly brush the burgers with oil and bake them on a baking tray lined with parchment paper for 25 minutes in an oven preheated to 200°C/400°F/gas mark 6, flipping them halfway through the cooking time.
Serve warm on toasted English muffins or buns with plenty of your chosen toppings.
Recipe taken from The Vital Vegan by Leah Vanderveldt, published by Ryland Peters & Small (£20)
Photography by Clare Winfield © Ryland Peters & Small
"Against all odds, veggie burgers are having a moment. They're no longer considered an afterthought on menus or at a BBQ, they've become the main event that people line up for at trendy eateries like CHLOE and Superiority Burger in New York. My advice: don't skimp on the toppings. I've suggested some of my favourites below, but play around with additions of your own. I find this smoky and (dare I say) meaty veggie burger works well with lots of different combinations."
Impact calculator
See the difference you can make
Calculate how you can have a positive impact by eating less meat and dairy ...